General News
Camper Spotlight- December 2018
Wednesday, December 12th 2018 by Sari

Grace F is featured in our December Camper Spotlight. Grace is an incredible camper who has been a loved member of the Chippewa community for quite some time. She is one of those campers who makes a point to get to know everyone at CRC- campers and staff alike. She is always willing to lend a helping hand and never fails at putting a smile on our faces. Grace is able to show her appreciation for Chippewa and takes advantage of her time at camp by making new friends, working hard at her activities and cheering as loud as she can in the lodge. Grace also happens to be a second generation Chippewa camper- her mom was both a camper and counselor at CRC. Grace was literally a Chippy from birth :). Read below to read all about Grace and her camp experience.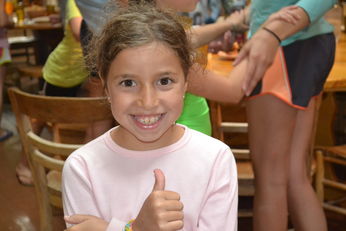 What cabin were you in during the summer of 2018?
I was in Trailriders!
How many summers have you been at camp?
This summer will be my seventh summer.
What do you miss most about camp?
I miss having all of the people in my cabin together and all of the activities we don't get to do at home like the climbing wall or waterskiing.
What is your favorite memory from the summer of 2018?
When my cabin took our camping trip to Mackinac Island and we went tandem-biking and my partner and I kept falling off our bike.
What are you most looking forward to in the summer of 2019?
I am so excited to be in Lakeview and to run 4th and Chippy Awards. They are going to be awesome!
How do you stay in touch with your camp friends during the year?
We have a group text and whenever someone from out of town comes to Chicago we all get together.
What is your favorite subject in school?
My favorite subject is History or my Photography Class.
What activities do you participate in during the year?
I horseback ride and I do gymnastics.
Is there anything else you want to share with your Chippy family?
I'm so excited for Summer '19 and can't wait to be back at camp!